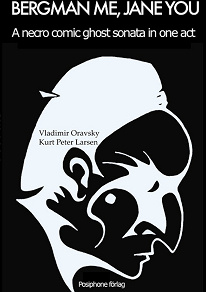 Bergman me, Jane you
BERGMAN ME, JANE YOU : A necro comic ghost sonata in one act.
BERGMAN LIVES and gives the desire to live.
Vladimir Oravsky raises Ingmar Bergman to life and allows him to meet up with a wannabe actress, who imagined that the road to success is not necessarily dependent on the hard work and talent ... BERGMAN ME, JANE YOU is Dinner for One also known as The 90th Birthday, is August Strindberg and his The Ghost Sonata, is Shakespeare's Hamlet, is Lars Norén, is Tarzan and Jane ... 
But I had a bit of fun too: Like when I read with what seriousness they discussed all my lies and obvious fantasies. I could make them believe anything. They ate it all. Like the most primitive population who can believe in a Lord of the Flies. And how they then drew grotesque conclusions about my plays and films… Totally based on my invented revenge on them. That was a little funny actually…  But after a while my laughing developed into horror: All those dissertations, analyses, etcetera… None of them ever discovered the bluff. From beginning to end everything was nothing but an entertaining revenge over these free lunch eaters. Because by then I was God and no one dared to rewrite my Sinai-tablets. For whom are these so called analyses written and why were they written at all? The cultural hacks don't give a damn about art or the artists behind it. They only work for these charlatans' own sake, for their own careers' sake. To be allowed to parade on some paper or TV station and there sit behind some door with their name on it and with some fancy titles. The world apparently WANTS to be fooled, why else since it lets itself be fooled so easily.
Damn, devil, cock, shit, hell, prick, cunt, Satan, fuck, bitch, balls, piss, asshole, murran…
I may be past all that now, but sometimes, still sometimes, I'm reminded of the bitter taste from the time when I had to lick these types' asses, then I'm reminded… I'll never get rid of that taste. Even when the worms swallow the last bits on my legs' flesh, then the taste of ass will live on. I hope, I really hope, that at least a bit of what I've done will smell better than those peoples' stench.
---